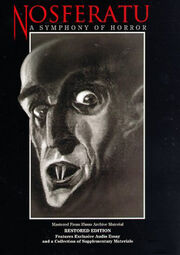 Nosferatu, eine Symphonie des Grauens (translated as Nosferatu: A Symphony of Horror; or simply Nosferatu) is a 1922 German Expressionisthorror film, directed by F. W. Murnau, starring Max Schreck as the vampire Count Orlok.
The film, shot in 1921 and released in 1922, was an unauthorized adaptation of Bram Stoker's Dracula, with names and other details changed because the studio could not obtain the rights to the novel (for instance, "vampire" became "Nosferatu" and "Count Dracula" became "Count Orlok"). Stoker's heirs sued over the adaptation, and a court ruling ordered that all copies of the film be destroyed. However, one print of Nosferatu survived, and the film came to be regarded as an influential masterpiece of cinema.
Ad blocker interference detected!
Wikia is a free-to-use site that makes money from advertising. We have a modified experience for viewers using ad blockers

Wikia is not accessible if you've made further modifications. Remove the custom ad blocker rule(s) and the page will load as expected.