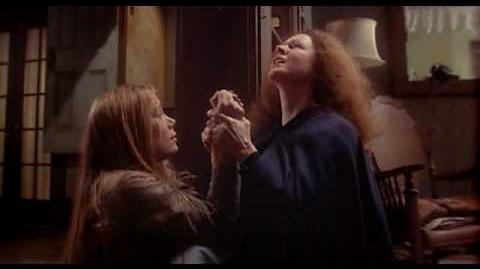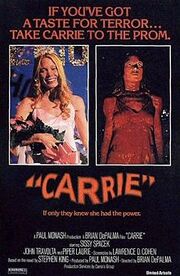 Carrie is a 1976 American supernatural horror film\ directed by Brian De Palma and written by Lawrence D. Cohen, based on the novel Carrie byStephen King. The film stars Sissy Spacek, Piper Laurie, Betty Buckley, Amy Irving, Nancy Allen, William Katt, John Travolta, P. J. Soles andPriscilla Pointer. It is the story of a socially outcast teenage girl named Carrie White who discovers she possesses latent psionic power which seems to flare up when she becomes angry or otherwise distressed. Carrie's powers become apparent after her humiliation by her peers, teachers, and abusive mother, eventually resulting in tragedy. Carrie was the first of numerous King novels to be adapted for film and television. It introduced young stars such as Katt and Travolta – who would shoot to worldwide fame – and revamped the career of Laurie, who had already made several films.
The film was a major success for United Artists, grossing $33.8 million at the U.S. box office, on a budget of $1.8 million. It received a mostly positive response from critics.The film spawned a sequel, The Rage: Carrie 2, and a made for television film, released in 2002, neither of which involved De Palma. During a survey taken in October 2008, it was revealed that Carrie was considered one of the most popular movies teens watched on Halloween.
Spacek was nominated for the Academy Award for Best Actress, while Laurie was nominated for Best Supporting Actress.