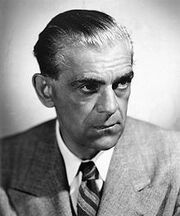 William Henry Pratt (23 November 1887 – 2 February 1969), better known by his stage name Boris Karloff, was an English actor.
Karloff is best remembered for his roles in horror films and his portrayal of Frankenstein's monster in Frankenstein (1931), Bride of Frankenstein(1935), and Son of Frankenstein (1939). His popularity following Frankenstein was such that for a brief time he was billed simply as "Karloff" or "Karloff the Uncanny." His best-known non-horror role is as the Grinch, as well as the narrator, in the animated television special of Dr. Seuss's How the Grinch Stole Christmas! (1966). He also had a memorable role in the original Scarface (1932).
Ad blocker interference detected!
Wikia is a free-to-use site that makes money from advertising. We have a modified experience for viewers using ad blockers

Wikia is not accessible if you've made further modifications. Remove the custom ad blocker rule(s) and the page will load as expected.